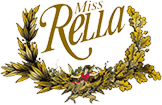 RELLA GIDA SAN. VE TIC. A.S.
Hall: ZAB5 Stand: Z5-M56
| Confectionery
| Bakery
| Dairy
| Frozen Food
| Halal Food
| 2019
RELLA GIDA SANAYI VE TICARET ANONIM SIRKETI is a privately-owned company, incorporated to manufacture and sell to high quality cheese and cake products in strategically identified national and international markets.
RELLA was established in 2004 and is growing rapidly since with sales and distribution network in Turkey and abroad. RELLA is carefully targeting to manufacture highest quality cheese and cakes products exceeding the worldwide quality management certificate requirements.
RELLA is mainly manufacturing mozzarella cheese and frozen cakes which matches the multinational restaurant and coffee chains quality and service expectations. We all are passionate towards our growth and ensure performance through efficient management of production, quality systems, supply chain, unflinching adherence to systems and professionalism, strong brand loyalty and service with a flair. Based on our skills, resources, training and relationship management, RELLA is the most reliable supplier for a company looking for long term and mutual benefit relationship.
Address
Aydınlı Istanbul Anadolu Yakası O.S.B. 8.Sok. No:1 Tuzla/Istanbul
Istanbul
Turkey
34956
Turkey