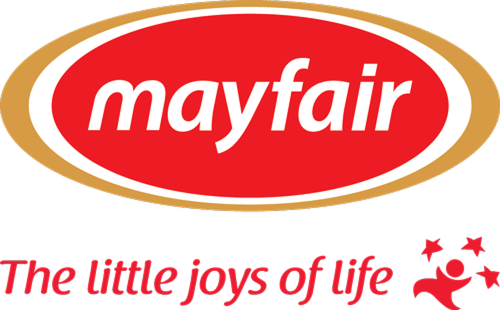 Asian Food Industries Limited - Mayfair
Hall: ZAB4 Stand: Z5-R46
| Bakery
| Confectionery
| Halal Food
| Health, Wellness & Free-From Products
| 2019
Asian Food Industries Limited (AFI) - Mayfair is one of the oldest food companies in Pakistan that started their business operations in 1969 and has been growing and expanding their horizons in multiple industries and businesses ever since. The production facility of the company is located in Raiwand with the total covered area of the land approx. 70 acres. The food segment of the company has been divided in to 2 division i.e. Confectionery and Biscuits.
Confectionery Division: started their business operation in 1969, as the pioneer of confectionery company in Pakistan and become the leader of Bubble Gum manufacturing since 1972, afterwards the success journey continuous and the company become the market leader in the soft chews category from 1994-1997. Currently AFI offering wide range of:
Soft Chews & Bars
Chew Toffees
Center Filled Candies
Hardboiled Candies
Pectin Gummy Jellies
Eclairs
Bazooka Bubble Gum
Center Filled Gums.
Biscuit Division: Asian Food Industries Limited entered in the biscuit category in 2005 with the successive launch of Tea Biscuits ''Café Biscuit'' that bring the new concept of Tea Biscuits in Pakistani market, afterwards company expand their product portfolio by launching some new brands i.e.
ChocDay Xtreme
Special Classic
Energi Biscuit
Cremo Cream Sandwich Biscuit
Chip Xpress Chocolate Cookies
Chocday Meltz Biscuits
Aala Egg Cookies
Wow Center Filled Chocolate Biscuit
Zeera Cookies
Asian Food Industries Limited is currently exporting to over 25+ countries and had a vision to turn into a global food player by expanding their exports team, product portfolio and superior quality products, consumer centric, business driven and innovative approach.
The production facility is certified with various compliance authorities i.e. SANHA Halal, BRC Issue 8 Grade A, ISO 9001, Food Safety 22000 and others.
Today MAYFAIR's products are the choice all over the world.
Address
Dars Road, Off Manga, Raiwand Road
Lahore
Pakistan